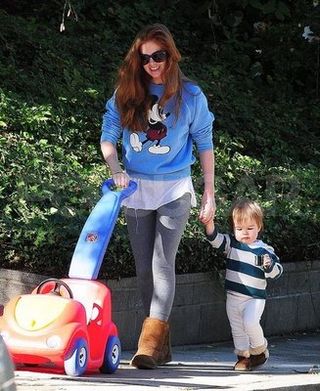 We love these photos of Isla Fisher and her gorgeous daughter Olive out for a stroll in LA. Isla (whose other half is Sacha Baron Cohen) came to fame in Aussie soap 'Home & Away' but has been more recently seen on the big screen in films such as 'Confessions of a Shopaholic'
Both mum and daughter opt for sheepkin boots to finish off their outfits. Practicality and style combined. 
Grommies kids sheepskin boots offer the same practicality and style in baby pink, chocolate and sand colours.  At more affordable prices than some other kids sheepkin boot brands such as Celtic Sheepskin or Ugg.