On Saturday 13th September, at Swansea Bay, surfers will be taking part in what is hoped will be the largest surfers' chain ever recorded, with the aim of setting a new world record.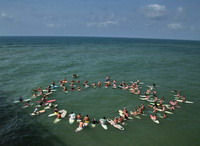 The event is already has over 600 people have signed up to participate.
If you would like to take part, or just find out more about the event, visit http://www.surferchain.com for full details.
Or email an application form request to mistersiro@hotmail.co.uk