Heathrow.. Kuala Lumpur..Medan...(North Sumatra)...Gunung Sitoli (Nias)
The trip out went pretty smoothly.  We spent a night in KL with an old pal and then a further night in Medan waiting for our connecting flight to Nias.
With that out of the way we somehow managed to get to the airport by 6am the following morning and onto our flight to Nias.  Two hours later we were hurtling through the jungle in a 4x4 with a happy hardcore version of Boyzone blasting out of the stereo and our driver swigging from a large bottle of Bintang. 
We got to Lagundri, checked into a Losmen and tried to get rid of our stinking hangovers before tackling the overhead surf that was reeling off down the point.
It is a pretty mad set up at Lagundri – I reckon you would be hard pushed to design a better surf spot.  You enter the water from a keyhole that is further up the point from the take-off spot.  This sucks you out and you then have about 100m paddle down the point to where the pack are sitting.  The exit is just as easy…just ride the white water in across a flat, soft reef, pick up your board and off you go.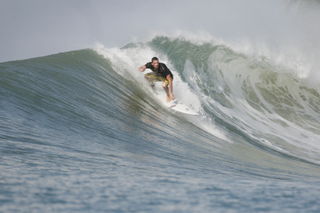 The waves vary a bit depending on size and tide but it is pretty mechanical with a barrel section on takeoff and then a further barrel section a bit further down.  The waves are really hollow and the reef is really deep – around 8 - 10ft so you hardly ever hit the bottom and don't need reef boots or anything.
Crowds weren't too bad with a max of 20 people at any time and as few as 2 or 3 first thing in the morning or during the day when it is onshore.  Some of the best surfs we had were during the day when no-one was on it…it was still quality with wind on it, it just doesn't barrel as much.
The first couple of days the swell was a good size – overhead with the odd bigger one.  Then the swell dropped but was still head high/overhead on the sets.  Then the big swell turned up halfway through the holiday.  A couple of pros rolled into town – some guy from the film Second Thought and an Aussie WQS surfer.  These guys were amazing…when everyone else was paddling for the shoulder they would swing round and drop into the biggest heaviest barrels you have ever seen.  They were making most of them as well.  This was primo Nias…as good and as big as any of pictures I have seen of the place.  I was sh1tting myself.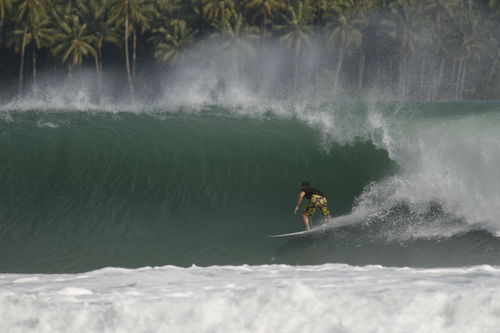 6'8 was definitely the go for pretty much the whole trip but I did surf my 6'3 on a couple of the smaller days.  Lots of volume in the wave so you need a bit of length to get you in comfortably…plus there is a lot of water moving down the point so paddling is a struggle on a short board.  Flamer rode a 6'6 on the bigger days so this would be fine if you are a shorty.
I only made  2 clean decent barrels and had a few lamish coverups but by far the best ones were the ones I didn't make.  I still have a long way to go on my quest to become a decent barrel rider but definitely feel that I learned a lot on this trip.  I have never really surfed waves that are this consistently hollow before and it really is an amazing feeling when you pull into a big one and race it for as far as you can.
So 10 days of amazing waves, a balcony 50m from the point with a perfect view and more red snapper and Bintang than you can shake a stick at – happy days
The journey back was a bit of a drama…a tropical storm meant our flight off nias was cancelled, missed our connecting flight to KL and it turned out to be the biggest Muslim festival of the year so no more flights.  We had a couple of sketchy hours in Medan with people trying to rip us off then eventually scored some flights via Penang in Malaysia and managed to get back to KL by the skin of our teeth.
All in all a hell of a trip.  If you like perfect, hollow tropical barrels and lots of them then stick this place straight to No.1 on your hit list.