The weather is not the best today, and although there is a wave it looks cold and messy (as seen in the shot here)

I think i'm gonna wait for a surf - the middle of next week is looking good, when the wind swings off-shore, and also maximize on the week of holiday left before returning to my proper job (yes, both myself and Sarah have 'proper jobs' - its gonna be a while before Grommies is gonna allow us the lifestyle we aspire too!). Anyhow i'm still reeling about my friend's daily surfing antics in board shorts in Central America, and find myself thinking back to our holiday last June, which was in the Algarve.
We found a lovely little desolate village called Figueria, the accommodation and flights we sourced ourselves. the place we stayed at was called Casa Meranha which is owned by a great couple; Sam is from Brighton, and Noa her husband was originally from Cuba, they had two little babies, who were very well behaved! Noa was very keen to learn about surfing, wanting to attract surfers rather than golfers, especially during the winter months, and wanted to learn how to read Weather forecasts so he could take people around on a 'Surf Safari' - if you're keen, check out the link to their booking site.
There were some fantastic beaches there, and plenty of Surf. We found this beautiful cove called Ingrina, about five minute drive from the apartment, which had a great restaurant, very well priced, and you could tell it was gonna be good as it was full of Portuguese, rather than holiday makers. It also had surf...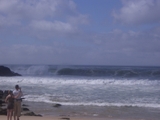 It was sunny every day - two weeks of bliss! The picture here is the wave at Ingrina - powerful, hollow; mess the take-up off and you're on the rocks. I saw a guy get barreled here - I also saw some guys get seriously munched! - you can judge the size by the black dot (a head) on the right of the picture...

Oh well, I think we have both resigned ourselves to the fact that the 2008 holiday is going to be UK based, as we are gonna be putting every penny into Grommies summer stock, and also getting on the road to push the Grommies brand wherever possible - Look out Newquay!!!