Saturday the 4th - we had a couple of orders in which is always welcome, but the afternoon was mainly about the meeting with Carl, and discussing designs for the summer range of products. With money being an issue (isn't it always!?!) we are focusing on a couple of grommies products which will work together as a complete set, or as a single item. Carl has done design work for clothing before (although not kids surf wear), so we are pretty confident he's going to pull of some really creative stuff, utilising the grommies logo and brand.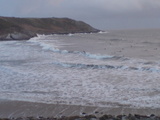 The meeting lasted for about an hour and a half, Carl was going to put some grommies branding together for next week, in time for Sarah's meeting with our design wales consultant.
Anyhow after the meeting Carl wanted a lift to Caswell - the beach does have surf, but arguably the worst break in Wales - the apartment he needed a lift to was right on the beach front, so I thought I'd take some pictures from the car park (especially as there were some surfers in)... I would of done likewise but I didn't have my kit. Anyhow i did get a wave in on Sunday at Rossilli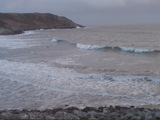 - although I managed to forget to take my wet suit hat - this made it a very cold surf indeed! Well, its Monday evening now and back to doing what I'm paid too - that two week break is already seeming a very distant memory!