Time to catch up on activity over the last week. We have been busy working on the 'nine to five's' (hence the reason why its been a week since the last post) and we are also having to concentrate fully on grommies, so time is a commodity we need to use wisely. The meeting with Carl last weekend was good, and he txt earlier to say that draft design ideas will be through mid week - great. Also managed to start a more pro-active search for some young grommies to get involved with the sponsored grommies programme, which has been boosted by help from some magic seaweed forum members - thanks for all your help so far, you know who you are. We have also been asked to help a young guy in Cornwall search for some sponsorship - more of that to come very soon.
With one half-day window of dry weather this weekend, and our Devonshire VIP visitors in tow (my parents) we got out on Gower and went for a coastal stroll.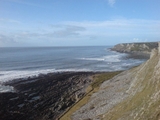 We went out to a certain headland and I teased myself about the surprisingly light winds and swell coming into the bay. Climbing up the top of the rather steep point I was greeted with this beautiful view, and A missed surf opportunity!
It was a surprise to see no one out - according to all the forecasts, prediction sites and wave buoys this place was never going to be working, but once again nature has the last trick in the hat when it comes to surprises. It goes to show that despite all the modern technology we have at our disposal you can't beat an eyeball check to see whats really happening. Get out there and explore!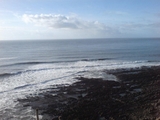 So no surf for me this weekend, but I have had some great text and e-mails telling me how my surfing friends had missed it / arrived too late / went to the wrong place. Thanks guys it cheers me up no end. All thats left to say is: 'tis a fickle thing this surfing malarky!!