On today's BBC Radio 4 'You and Yours' programme they covered the growing problem of Fake UGG Boots.
20,000 counterfeit pairs of UGG boots have been seized by Customs. Complaints to Consumer Direct about fake copies of the fashionable sheepskin UGG boots have tripled since last year.
This is a growing problem and bad news not only for Ugg but for all those unsuspecting customers.
For those who want to stay clear of fake uggs and maybe want a cheaper brand option that offers good quality - there are lots of other quality sheepskin boots out there. 
Grommies boots use 100% Australian sheepskin but unlike some of the other sheepskin boot brands we are based in the UK (not Australia or New Zealand) and therefore there are no shipping costs and import taxes for customers with the extra bonus of FREE UK mainland delivery.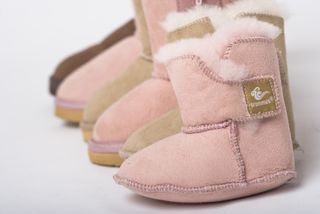 At Grommies kids surf wear - we believe that we offer great sheepskin boots for kids who want the ugg style but without the price tag.  Prices start at just £14.99 with free UK delivery.